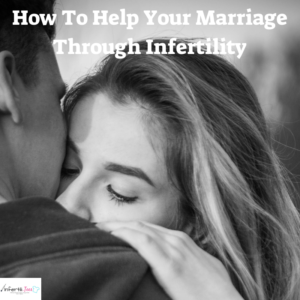 You might find that an unintended side effect of infertility might be the loss of romance between you and your spouse.
Between tracking ovulation and all of those unpleasant doctor appointments it can be hard to be spontaneous and it can be easy to lose that spark.
Today we would like to share a few fun suggestions to help keep the romance alive while enduring infertility.
Surprise Him\Her
Drop off a goody (their favorite soda, cookies, take-out, etc.) to your spouse at work
Show up for lunch unannounced
Pack their lunch for them to take to work
Send a fun text during the day telling them why you love them
Let them pick the movie for date night
Book a Getaway
A romantic trip to Hawaii won't always be in the cards (and if it is- go for it!) – but don't let that stop you from getting away together.
Get a hotel room for the night, drive a few hours to a nearby town, or go to a Bed and Breakfast. Do whatever you can within your budget and availability.
It  might take a little extra planning or effort but it is always worth it. Being one-on -one with your partner away from your regular routine is so important and it can help reignite the  passion you may be missing as you maneuver your life through infertility.
Make a Coupon Book
Cheesy? Yes. But sometimes you need to be silly!
Make a coupon book filled with things your spouse loves to do. It can be anything from leg rubs, to letting them pick the movie you watch. Taking that time to show your spouse that you care about them and their needs will go a long way.
Do Each Others Chores
Even though we do things pretty evenly in our household, there are always those few chores that we each take care of.
I typically do the laundry and my husband always takes the trash cans to the street on garbage night.
Think about what it is that your spouse typically does- and beat them to the punch!
Let them sleep in while you get up with the kids one morning, or surprise him by cleaning up his whisker hairs in the sink instead of waiting for him to do it (I may or may not be speaking from experience on that one!).
The point is, when you serve the one you love you will only love them more.
Schedule Time
Life is busy!
Add fertility treatments, hormones, and stress on top of "regular" day-to-day events and that can make life even more hectic.
If you have to schedule time to be together then do it. Make date nights a priority.
Even if that means making sure you both don't have other obligations on the same night so you can stay in and cuddle on the couch. When you show each other you care enough about them to make time for them it can make all the difference in the world.
Put Away Your Phones
This is a big one!
Phones are amazing and needed in the time we live. But we all know how addicting and time sucking they can be. Set a "phone bedtime" rule for your house and stick to it. You might decide that you both put your phones away by 10 PM. How often does "I'm just checking my stuff" turn into an hour of mindless scrolling while you both sit next to each other on the couch?
Do what you can to stop that habit and know that once the phones are put away- it is just you and him time.
Love Notes
Love notes are timeless and never go out of style. Write a note in the steam on the mirror after you shower, stick a post-it note on the steering wheel of their car or sit down with a pen and paper and write out why you love your spouse!  Once you get started I'm sure you won't be able to stop.
Sometimes we all need to be more intentional when it comes to making time for our loved ones. When life gets busy and hard it is easy to get wrapped up in our troubles and often our favorite people get the brunt of it.
Infertility can suck the life out of you and sometimes just getting through the day is all one can do. But if you take the time to show love to those around you- you will notice a difference in your relationship and your overall happiness as well!
We would love to challenge you to post on social media the ways you are loving your spouse as you battle infertility. Please tag us and use the hashtag: #triumphsandtrialsloveyourspouse